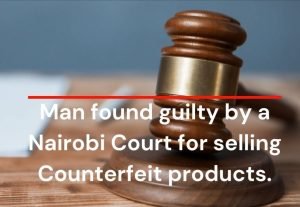 In a judgment issued at the Milimani Law Courts in Nairobi, the Honorable Chief Magistrate L. Gicheha has found Mr. Japheth Mukinyi Mwakavi guilty of the possession and trade of counterfeit goods, a violation of section 32 of the Anti-Counterfeit Act No. 13 of 2008.
Mr. Mwakavi was charged with unlawfully possessing for purposes of trade, 17 counterfeit HP flatboxes, valued at Kshs. 139,500, without the authorization of the registered intellectual property owner, Hewlett Packard Group LLC, which is in contravention of section 32(a) as stipulated in section 35(1) of the Anti-Counterfeit Act No.13 of 2008.
The Magistrate noted that the prosecution had proven beyond reasonable doubt that the goods were indeed counterfeit based on expert testimony and evidence provided by Dennis Otieno Elekia, an agent and intellectual property expert from HP, the owners of the trademark.
In mitigation, Mr. Mwakavi made unverified claims of bribery solicitations in unsworn testimony. He also requested a lenient, non-custodial sentence, citing his medical condition, as he suffers from diabetes and requires constant medical attention. Additionally, he pleaded that he is the sole provider for his family, consisting of four school-going children, and that his business would collapse if he were to be incarcerated.
In the final ruling, Mr. Mwakavi was found guilty of engaging in counterfeiting activities. As a result, he was slapped with a fine of Kshs. 400,000 or, in default of payment, a one-year prison sentence. Further, the court ordered that the cash bail be forfeited as part of the fine, and the seized counterfeit goods were to be surrendered to the state for destruction. Mr. Mwakavi was granted a 14-day window to file an appeal.
Dennis Elekia, speaking on behalf of HP, commended the Kenyan criminal justice system, the Inspectors from the Anti-Counterfeit Authority, the Prosecutors from the Office of the Directorate of Public Prosecution (ODPP), and the Magistrates Courts for upholding justice and safeguarding the rights of intellectual property owners.
Speaking after the ruling, the Anti-Counterfeit Authority Director in charge of legal services Mr. Johnson Adera said being in possession and selling counterfeit products is a crime in Kenya. He said counterfeiting led to unfair competition between rightful owners and counterfeiters.
"We have zero tolerance for counterfeiting and this ruling makes it clear that not only manufacturing counterfeit equipment but also selling counterfeit is illegal and punishable by law. It sends a strong message to unscrupulous traders who profit by deceiving consumers by providing counterfeit products of inferior quality." Said Mr. Adera.