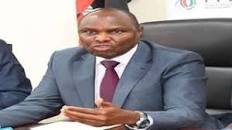 The simmering supremacy battles among Cabinet Secretaries and other senior officers in government appeared to have taken a completely new direction this week.
Over the weekend, a WhatsApp message was circulating among privileged quarters in sections of the government.
The yet to be confirmed 'credible rumour' was that some group and or individual had moved to the High Court seeking to challenge the position of Chief of Staff and Head of Public Service – on allegation of  the powerful office allegedly being "illegal".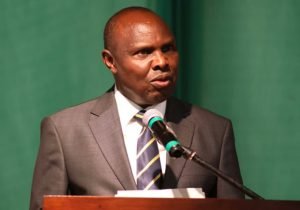 This is the position Mr Felix K. Koskei is
holding.
He is the Chief of Staff of the establishment at State House as well as being head of the entire public service. Quite an enviable position.
Among those who have held the powerful docket (previoulsy known as Chief Secretary) of Head of Public Service (HOPS) are Sally Kosgei, Francis Muthaura, Francis Kimemia and Joseph Kinyua.
Kosgei was to Moi what Amb. Muthaura and was to Kibaki and Kimemia and Kinyua what they meant in the junior Kenyatta administration.
Defacto
The holders of the coveted position are, more often than not, thought to be 'defacto President' and are obviously revered by many for the huge soft and hard powers they wield.
They have the ear and eye on the Head of State and Government at any moment. Head of Public Service is considered to be the functional and operational arm of the presidency. Their word cannot be contested. Not in the open – not even in secret. That is considered an abomination.
Since his appointment on October 14, 2022, Mr Koskei has been keeping a low profile until he began asserting himself a couple of months ago. He rattled many corrupt forces, within and out of government, when he called out those engaging in wastage and corruption in the public service.
Austerity measures
He spelt out comprehensive austerity measures on foreign travels, size and frequencies of such delegations which affect both CSes, PSes and parastatal honchos.
Mr Koskei appeared to have rattled some CSes on the power to appoint CEOs of parastatals. While all the procedures remain intact – and the board and the CS will advertise and conduct interviews – concurrence with the office of the HOPS is now a firm requirement.
Days when CS'es received inducement of different of different kinds, including money and sexual offers, to collude with board chairpersons to appoint undeserving cases are now gone.
Noteworthy, Mr Koskei has equally been pushing for the whole-of-government approach in restoring order in the public service.
While he is rarely in the media – unless addressing an open door meeting, some of informers in government say Mr Koskei is clamping hard on lethargic, corrupt and officers unwilling to change the culture of the public service – in private meetings.
Intricacies
"I don't know if he has been sued. But I expected he would have been sued earlier. CSes are uncomfortable that he has taken away their powers. Why would you still need a public service CS, for instance, with such a powerful HOPS?", quipped a source in government most familiar with the intricacies and powerplay around top offices.
"Even the Attorney General is frustrated. CSes and PSes can't easily access the President. While they haven't been stopped, many find natural comfort in wishing to brief the President what HOPS has cleared", added the source.
A prominent lecturer at the University of Nairobi who didn't wish to be named dismissed claims that Mr Koskei was a stumbling block.
"Forget it. Hogwash. That man is innocent. He is being fought by some hjgh level characters not because he is wring but because he is increasingly seeking for accountability. There are others who are attacking him as a collateral damage of reaching at the President. They have issues with the President but since they can't take on him directly, they have decided to target his actual principal deputy", he said.
Another public officer in the water sector, who equally can't be named, told us – "When Koskei stopped the long and winding noises between a CS and a PS over Athi Water CEO alleged graft and powerlessness of the board, it took a few weeks and both protagonists were out of Maji House – one newspaper claimed HOPS sided with PS over extraneous reasons and not public interest issues. Today, there is no such nonsense in the water sector. You expect such a man to be the darling of the corrupt? No! They are keen to see him out. But they won't succeed!"
Kimemia, Kinyua
When we reached one of the COFEK lawyers, again, who didn't wish to be identified for obvious reasons, he said thus, "I would love to see those pleadings. How was it legal for Kimemia and Kinyua to hold the same position of Head of Public Service and now its illegal merely because its Koskei? That is pure and cheap politics. COFEK should consider to be enjoined in such a case seeking to intimidate public officers.
"He can attend Cabinet anytime – as an ex-officio either on frequent or permanent invitation as long as he takes oath of secrecy. Do they know that very junior people attend Cabinet by serving the officers at the meeting. What matters, and I hope that is the case, Koskei doesn't attend as a substantive member of the Cabinet.
"Perhaps they are confusing the HOPS position with the junior one of the Secretary to the Cabinet who literally answers to HOPS in all hierarchies. Do they know what the real definition of a President and Presidency? What about decisions of the President under Article 135?" he concluded.
Graft Fightback
From the viewpoints, it is more clear; that Mr Koskei is being fought by internal and external forces in government because of the power he wields – not knowing that he doesn't communicate necessarily his decisions. He actually conveys the decisions of the President under the law.
What appears worrisome is that some senior men om government seem to be training their guns on Mr Koskei as long as he fights wastage and corruption in the public service.
Incidentally Article 10 and 232 of the Constitution grants HOPS huge powers to ensure the public service adopts values and principles consistent with the law.
If and when Mr Koskei is sued, time will tell, bug what is for sure corruption is fighting back.
For the record, we unable to reach him for comment as his office dis not respond. At one time we were referred to the Government Spokesman.