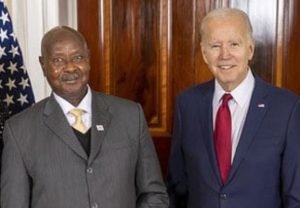 The US President Joe Biden has endorsed the 20th Annual African Growth and Opportunity Act (AGOA).
This comes as relief over fears the EPZA key program was to end in 2025.
But US has struck Uganda off the list of African countries to benefit from extended AGOA offer 'gross human rights violations'.
Biden, in a short statement released on Wednesday, said that he had encouraged Congress to re-authorise AGOA in a timely fashion.
He also said it's important to modernise the act, so that it can make the most of economic opportunities in the coming decade.
AGOA gives some African countries preferential access to the US trade market.
It's been a relatively subdued start to the AGOA Summit at Nasrec, which has already received a stamp of approval from US President Joe Biden.
In a statement on Wednesday, Biden said that the AGOA was facilitating private-sector-led economic growth in sub-Saharan Africa through increasing the competitiveness of African products, diversifying its exports and enabling the creation of thousands of new quality jobs.
On the flip side, he said it also provided the US with a more competitive environment for businesses operating in Africa.