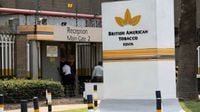 Increased interception of fake cigarettes from Uganda has now shone the spotlight on the impact the free movement of people and products within the region under the East African Community (EAC) Common Market protocol is having on Kenya's tobacco industry.
Increased inflow of illicit tobacco products has seen Western Kenya, with its porous borders, turn into a thriving hub for contraband cigarettes arriving from neighboring Uganda and Tanzania.
Mastermind Tobacco—the second largest cigarette maker—has been hit the hardest with its flagship product Supermatch ranking among the most counterfeited.
Just this week, police and the Kenya Revenue Authority (KRA) officials in Kakamega County impounded contraband cigarettes valued at Sh14 million contained in 350 boxes that had been smuggled into the country from Uganda.
These smuggled cigarettes were labeled as "Supermatch," closely resembling the brand produced by Mastermind Tobacco in Kenya.
Operation
Police managed to arrest the lorry driver and have initiated a manhunt for his accomplices.
Uganda, which borders Western Kenya, is a major source of fake cigarettes, with 93 percent of illicit cigarettes found in Kenya believed to originate from the country, according to a survey done by the London-based data analytics and brand consulting company–Kantar Group.
The survey found that almost one in four cigarettes smoked in the country is illicit.
According to Western Regional Commissioner Irungu Macharia, the East Africa Common Market Protocol which came into force in July 2010 might be contributing to the illicit trade along the border.
This protocol promotes the free movement of goods, people, services, labor, and capital while guaranteeing rights to residence and establishment.
But without the right oversight, the protocol is being abused with counterfeit products also moving freely across the borders to the detriment of established brands and the taxpayers who are losing billions from this racket.
Kenya Institute for Public Policy Research and Analysis (Kippra), an agency that falls under the State Department for Planning, said in a 2014 situational analysis on the extent of the illicit tobacco products that because the East African Community (EAC) countries are at different stages of enacting legislation on illicit trade, this continues to pose challenges in establishing concerted effort to curb the problem.
"In the regional context, there is a need to advocate for approval of the EAC anti-counterfeit policy and enactment of the EAC Anti-counterfeit Bill to enhance regional coordination in the fight against illicit trade," said Kippra.
For example, illicit cigarettes also filter into the country from Tanzania, another member of EAC, according to a 2021 survey by the Global Initiative Against Transnational Organised Crime, an NGO.
Excise tax on cigarettes in Tanzania is much lower than in Kenya, resulting in cigarettes being markedly cheaper in Tanzania.
"This means that cigarettes bought in Tanzania and then smuggled to Kenya can be sold at a higher price than in Tanzania, but still cheaper than the average Kenyan brand, in what is known as 'bootlegging,' a form of tax avoidance," reads part of the 2021 survey.
Mastermind Tobacco, whose flagship product 'Supermatch' was among the items impounded in Kakamega, is now calling for close collaboration between government agencies, specifically the police and the KRA, to combat this problem, especially in the porous borders of Western Kenya where illicit products worth millions of shillings find their way into country.
"We are deeply concerned by the increasing influx of illicit cigarettes into the country, particularly from Uganda," said Mastermind in a statement, with the second largest cigarette maker noting that proliferation of counterfeit products was denying them essential revenues.
"We are suffering significant losses in the market due to the proliferation of counterfeit products bearing our brand name, being sold at considerably lower prices, making it impossible for us to compete effectively. As we lose our revenue, the government is also losing," explained Mastermind.
In a statement in July, Mastermind noted that the local market is flooded with up to 80 percent of products bearing the name of Supermatch, which it notes is smuggled into Kenya from neighbouring Uganda.
In response to the rising number of uncustomed "Supermatch" products the company was forced to alter their product branding.
BAT, which is listed at the Nairobi Securities Exchange (NSE) and is Kenya's largest tobacco manufacturer, found in an annual survey that the illegal sale of cigarettes ate up about 25.5 percent of the market last year compared to 11.3 percent earlier, resulting in a loss of billions of shillings in revenue. It estimates the illegitimate market denied the KRA Sh6.5 billion in 2022.
Western Kenya, with its porous borders, has become a thriving hub for contraband arriving from neighbouring Uganda and Tanzania.
The law enforcement agencies note that the thriving multi-billion shilling illicit trade in contraband and counterfeit goods is sustained by lethal and aggressive yet untouchable cartel smugglers who operate under the protection of unscrupulous customs officers, corrupt police officers and other government officials who are complicit in this well- organised syndicate.
Some islands on Lake Victoria have gained notoriety for facilitating this illicit trade, costing Kenya millions in lost tax revenue.
In this trade, unscrupulous business people prey on restricted commodities and disrupt domestic markets and Kenyan producers.
Manufacturers have also complained of the lenient court fines for offenders which further exacerbates the problem, as those arrested can easily pay bail and be released to continue their illicit activities.
The low fines and the return of impounded vehicles to their owners have eroded the motivation of law enforcers engaged in the crackdown.
Some have proposed that the courts order the forfeiture of vehicles seized while transporting contraband to the State. First published in Business Daily
Got comments: hotline@cofek.africa